Two friends, Mike and Dan, started a refreshing business and presented a refreshing chewing gum Peppersmith. They've set a bunch of noteworthy values and promise that while they can't promise they'll do everything perfect they do promise they'll always do their best to do the things right. As far as we can see, they're doing great. I'm personally not a big fan of chewing gums, however, for Peppersmith I'd be willing to give them a second chance. The natural gum + intelligent design packaging wins me over every time.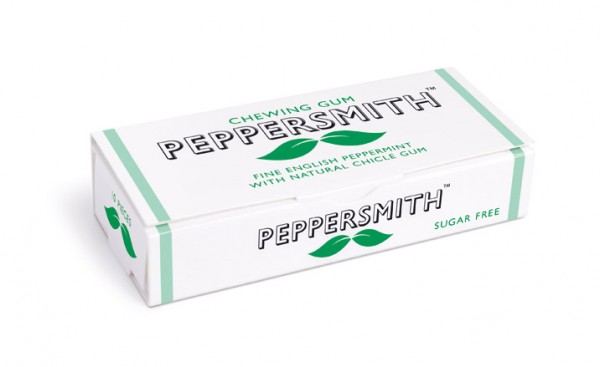 Sweetened with wood sugar from beech trees and peppermint grown in Hampshire (there are also no artificial flavours, colours, preservatives or aspartame), it's touted as the first British all-natural chewing gum that's also approved by the British Dental Health Foundation. Besides that, the packaging itself will make you buy at least one pack of Peppersmith. Each box slides out of its case to reveal a moustachioed icon like Salvador Dali and Charlie Chaplin – the moustache being a sly riff on the company's stylised mint leaf logo. Lovely attention to the details (and very useful one) is that they equipped each gum case with small slips of Post-It-like paper to wrap up used gum.
Currently available in peppermint flavor, coming soon you'll also be able to try Peppersmith in Spearmint, Cinnamon and Fish & Chips (huh?). If you've tried them, let us know how they taste.