The inspiration to found their own brand "Origami Jewellery" came during a night in the winter when Masayuki Muraki, a friend of french designers Claire & Arnaud, taught them the typical Japanese folding handcraft. Because of the endless possibilities and the pleasure of creating new origami, the game took all night long. Creativity and the joy of trying out always new ways how to use the folding made "Claire & Arnaud" forget time. The idea of origami earrings was born.
Their first collection made with thread and paper had this beauty of the moment. But the splendour of the Japanese shapes deserves to combine them with precious materials like gold or silver. To produce this collection the couple decided to go to Japan to look for manufacturers able to reproduce precisely the fragile shapes. Since January 2008, "Claire & Arnaud" introduce their first collection of jewellery with the model Tsuru®, the symbol of peace in Japan. Then, the rabbit, the deer, the triceratop and others joined the family. Today, the their origami jewels are now available all over the world.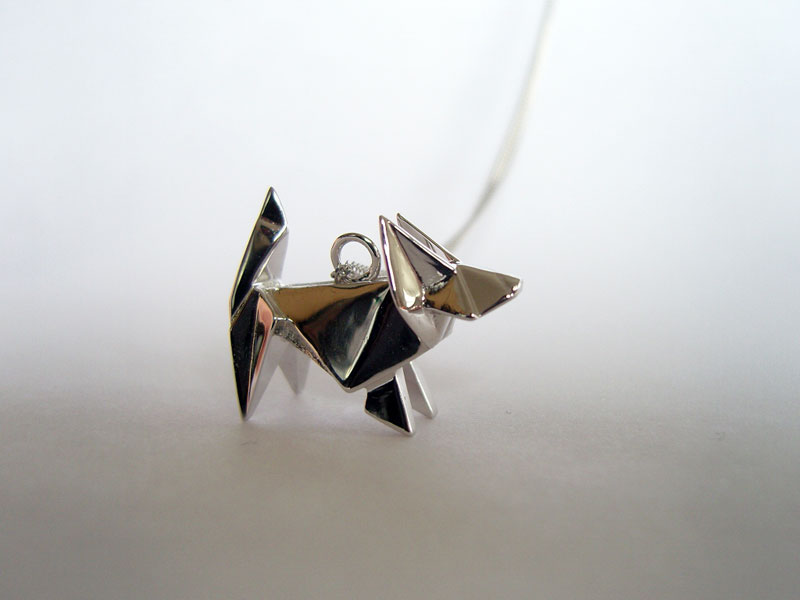 The readers of our blog well know, that we are quite big origami fans. You can see more from us on origami on origami soap packaging by Compaigne de Provence, and on our miserable first tries to fold a boat from a soap package. See also architecture inspired jewelry by Oscar Niemeyer.