While we visit Slovenia every summer, this year we are changing our routine.  And while at this time of year I would be sitting by Ljubljanica river in downtown Ljubljana with my best friends, drinking 'bela kava', 'aperol spritz' or a classic, a glass of red wine, today I am sitting in Cabo San Lucas and dreaming of Ljubljana in summertime.  I came along the new interior design collection "Summertime Collection" by Slovenian designer Nika Zupanc a while ago, but it feels just right to post it today, on this hot summer day.
T

he 'Summertime' collection by Nika Zupanc, takes on classic furniture pieces – a lamp, a chair and a table – 
and re-interprets their generic nature by enhancing them with familiar but unexpected details… 

Presented during Milan Design Week 2012 at Spazio Rossana Orlandi, the objects are stripped down to their purist form, 
whereby their utilitarian value is only further highlighted through the simplicity of the materials used to construct them.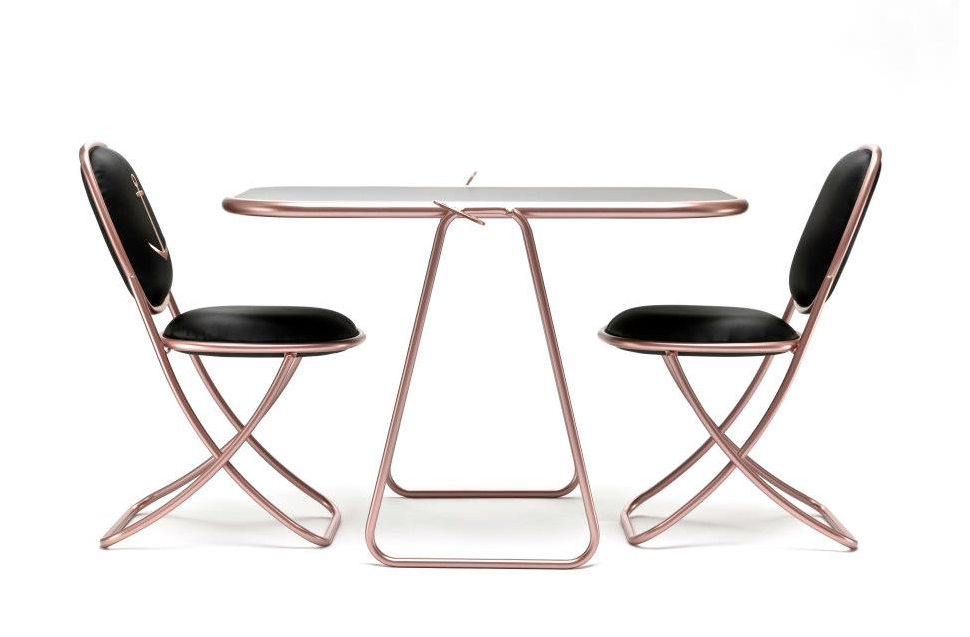 With its strong foldable tubular metal frame the summertime chair could have been just another well-behaved object, resisting the demanding life in lush gardens, however, it has a more subversive role to play. Dipped in red gold colour it brings an uncanny allure to the sweet tackiness of summer memories. In the meantime the embroidery of an iconic summer visual, an anchor, stirs up a palette of novel connotations, finally allowing you to have an affair with this post-suburban bad boy gone red gold.
Designed as a surface of purification and temptation, the "summertime table" makes a staggering first impression and a lifelong obsession. Of course it can take all the challenges of a sleek coffee table, but its toy-like winding mechanisms hint at the potential of switching perspectives. On the one side it is, how very cerebral, an impromptu blackboard for taking down emotional bits and bobs. On the other, your own private vanity fair with a full length mirror, waiting for the first blink of an eye.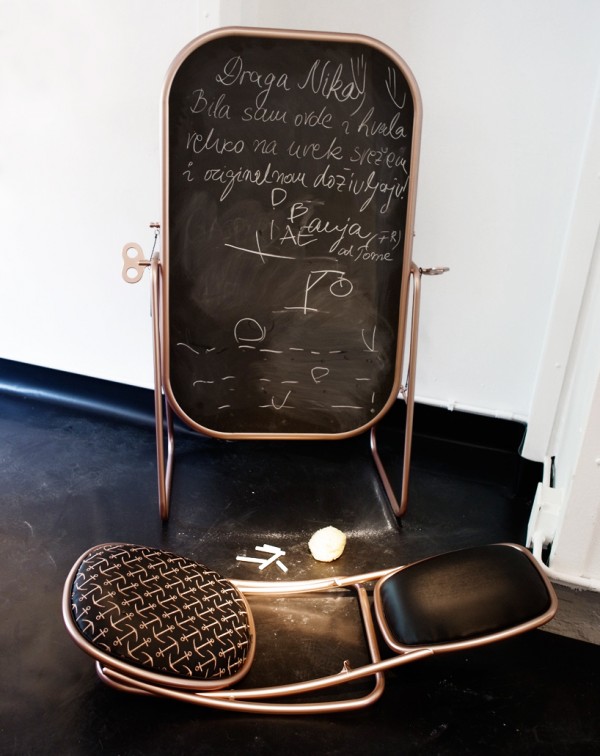 Produced in collaboration with the Italian glass company Vistosi, the 'bubble lamps' blow-up the proportions of murano glass.
 Executed in the form of large pink balls, this series of lights implies the role of an invader in the mise-en-scène of Lord Byron's Venice. Ttaking venetian street lamps as their poetic starting point, their perfectly shaped large spherical appearance giving off a smokey haze of light.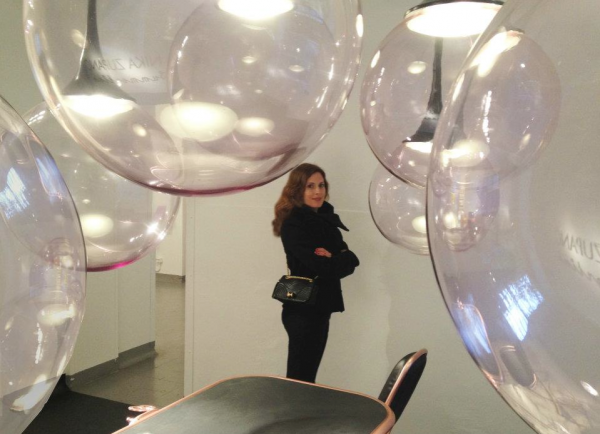 Now the only thing left for me is to figure out if they ship to Mexico, and bring a piece of Slovenia to my home.
Read two other articles on Nika Zupanc here: 90-60-90: Deliciously curvy and Gone with the wind. See more images of Summertime collection below: