Just a few days ago, we celebrated 20 years (time flies by!) of the release of the "Debut" album by Björk.  This post is our small homage to one of our favorite musical artists, but more than anything to her vision and eye to collaborate with really talented and visionary people along her career.
Either you like Björk or not, you cannot deny she has been a cultural and artistic reference for more than the last 20 years.  From her initial collaborations, making heads turn to Iceland with The Sugar Cubes, to her singing collaboration with her dad's jazz trio (the cult recording Gling-Glo), until her solo albums, it is remarkable the eye that the favorite daughter of Iceland has for choosing collaborators.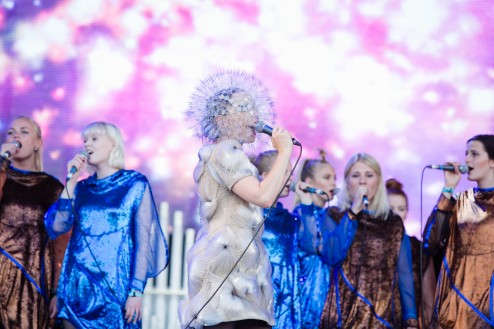 She got involved creatively and romantically during her London years with with people like Stéphane Sednaoui (to whom and their failed relationship she composed "possibly maybe" ), Tricky (who dedicated to her "Makes me wanna die" after they broke up), and  Goldie (we hope he didn't dedicated her "Temper Temper"), until she established in NYC with another favorite artist of us: Matthew Barney, and with him created and co-starred in one of his films: Drawing Restraint 9.
If all the previously mentioned weren't enough (amazing) collaborations in anyone's career, she has collaborated with people of the stature of:
Spike Jonze ("So quiet"), the visionary collab with brit's video enfant terrible Chris Cunningham ("All Is Full of Love"), the fruitful collaboration with Michel Gondry ("Jóga"  / "Bachelorette"  / "Hyper-Ballad"  / "Army of Me"  / "Isobel"  / "Human Behavior"), Anton Corbijn and obviously her work with Lars Von Tier (Dancer in The Dark).  She also asked a fresh fashion graduate Alexander McQueen to design her clothes for the cover and art of "Homogenic", and later the beautiful and delicate collab with Hrafnhildur Arnardottir, a.k.a. Shoplifter, who created the "hair sculptures" which adorns the cover and art of the 2004 album Medúlla, and so many more collabs which we will not mention right now.  On this occasion we would like to direct the spotlight to 2 of her most recent collaborators:
Iris van Herpen:
First we will talk about the mastermind behind the complex and tweaked Björk's live wardrobe the last couple of years, based entirely in her collections 'Synesthesia' (F/W 2010), Escapism (S/S 2012), & Micro (couture, Spring 2012).
'Synesthesia', is constructed from reinforced leather with shinny foil accents, and inspired in the neurologic condition of the same name, which is characterized by the simultaneously activation of different senses by stimulus only being perceived by one of the senses, so then we can "listen" to colors or to "see" sounds. Â Since Biophillia concept was to merge nature and music, this collaboration made all sense.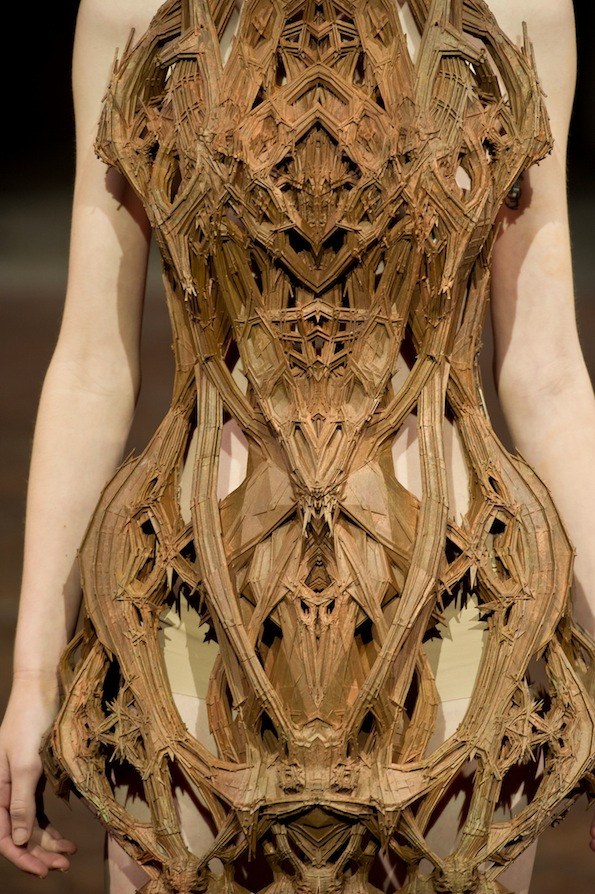 'Escapism', is another Van Herpen collection in Björk's wardrobe which includes the custom, angular, midnight blue dress that Björk is currently wearing on stage during her month-long Biophillia NYC residency.  The entire collection introduced 3D printing technology, and adding other materials like coral-like metallic silk, burnt metal weave, and shiny yarn hairs.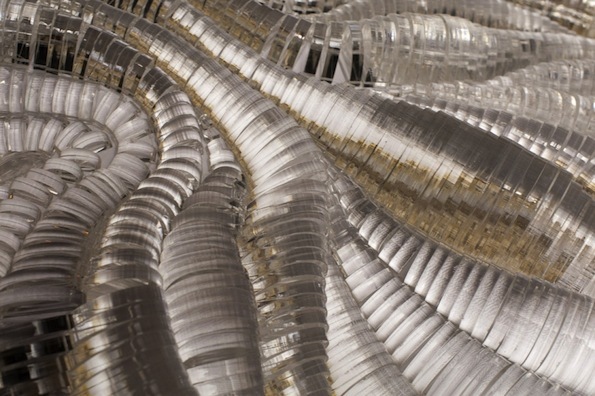 And the 3rd collection which forms part of Björk's wardrobe is the Spring 2012 couture collection "Micro", inspired by SEM photographs of bacilli, vermin, mites, lice and termites. "I wanted to show the beauty of them, because in my eyes they are the most bizarre, unbelievable and most imaginative creatures imaginable," said van Herpen; The bulbous dresses were fashioned from clusters of amphibious-looking plexiglass, 3D modeled on the computer before sewed onto the garments.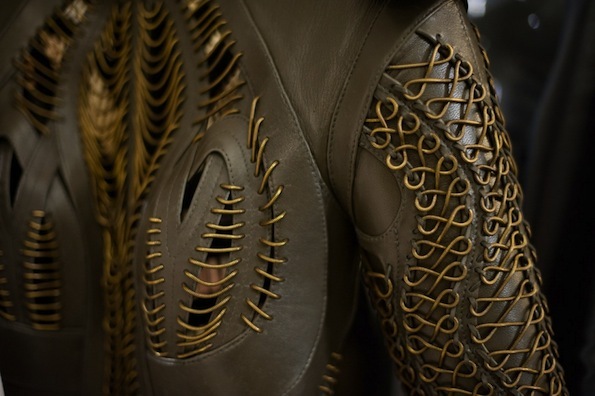 Maiko Takeda:
To wrap-up this mini-homage (our way) to Björk's creative collaborations, we love to talk about  Maiko Takeda, who without a doubt is the one attracting most of the attention lately.
Maiko designed those weird, bizarre, and at the same time delicate-looking and beautifull masks/hats (that remind a little bit of "Pinhead" in the Hellraiser "B-movies") which are part of her ATMOSPHERIC REENTRY (2013) collection. Maiko constructs her designs from plexiglass, silver and even wool (there's some amazing stoles in the collection).
Takeda grew up in a post boom Tokyo where she quickly was faced with the challenge of wanting to create products of individual and timeless quality in a country slowly coming to a grinding halt. Â This meant that she more and more looked to areas outside of fashion and pop culture for impulses, exploring the city by foot, finding inspiration in the smallest and most random of things.
Within the pieces, there is the juxtaposition of various elements. Â Environmental influences such as shadow, wind and gravity, create an experience of wonder and bewilderment for the adorned. Â Her work is a world where simple seems complicated and the order turns into Chaos, we just love it.