The photos of this beautiful park make me want to travel and explore far places.  Situated on the Derwent estuary system, at Elwick Bay, in Glenorchy, Tasmania, GASP, the Glenorchy Arts and Sculpture park responds to the lapping tides.  The tidal waters produce an ever changing environment of mud flats and inundations.  Bird and marine life come and go.
GASP's vision is to fuel the imagination of artists and feed the curiosity of people.  Art will respond to land and sea. This gentle approach to public art will never overwhelm or interfere with the natural things already cherished by those who know and love this place, but it will create new memories and different ways of seeing and sensing.
The Glenorchy Art & Sculpture park has been conceived by Room 11 architects as a ribbon along which contemporary art events and installations can occur, and the new architecture is an important feature of this.
Along the River Derwent in Glenorchy, Room 11 has built a colorfully calibrated public walkway which deftly links previously marginalised, but surprisingly beautiful sections of foreshore.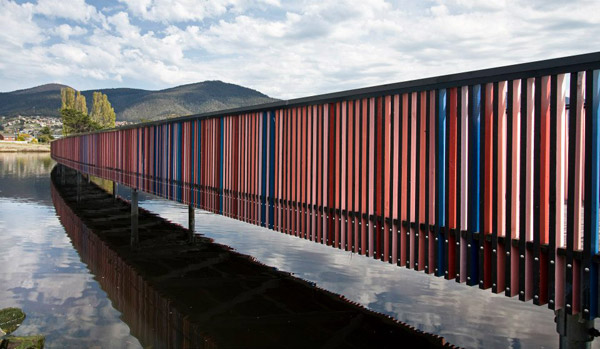 "We move on from nostalgic visions of place making and embrace interstitial 'spaces' with relish. " states Thomas Bailey.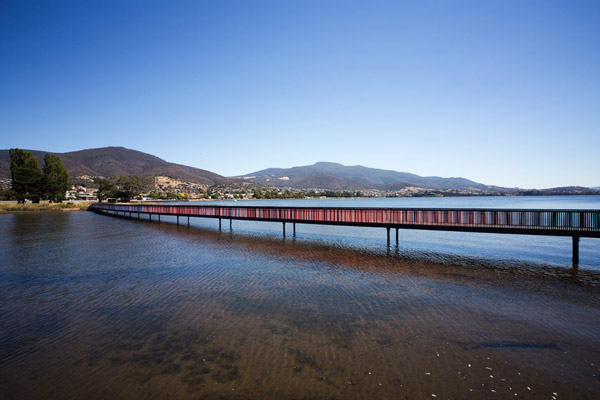 Abundant birdlife and the silky surface of the river are able to be closely inspected as one walks the gentle arc which links an existing school, playground, major entrainment centre and rowing club.
Punctuating the arc are two carefully crafted pavilions which offer shelter, seating and a location to pause and consider the water plane and sky.  Maniacal blunt forms frame and command the superlative Tasmanian landscape.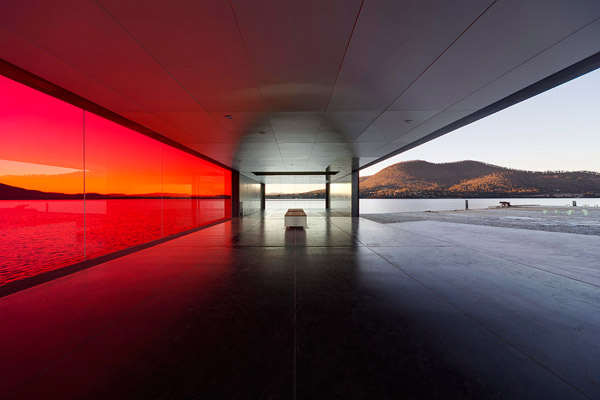 Color and architecture have been used as a vehicle for re-evaluation and re-appreciation of place, creating unity between the bay and the experience.
GASP, Glenorchy Arts and Sculpture Park in Glenorchy, Tasmania, Australia has been designed and created by Room 11 architects.
Photographer: Ben Hosking
Awards:
URBAN DESIGN – 2013 NATIONAL AIA ARCHITECTURE AWARD
URBAN DESIGN – 2013 AIA TASMANIAN ARCHITECTURE AWARD
WINNER 2012 DULUX COLOUR AWARD – COMMERCIAL EXTERIOR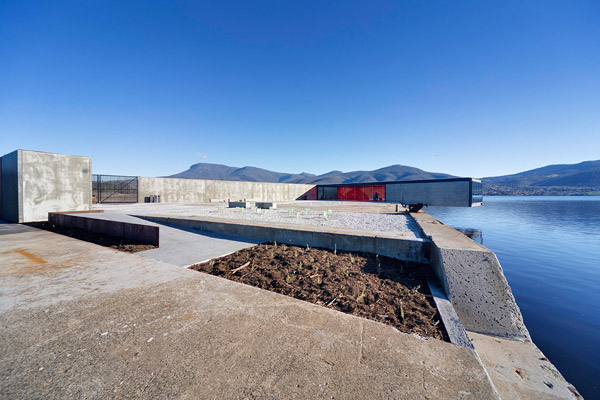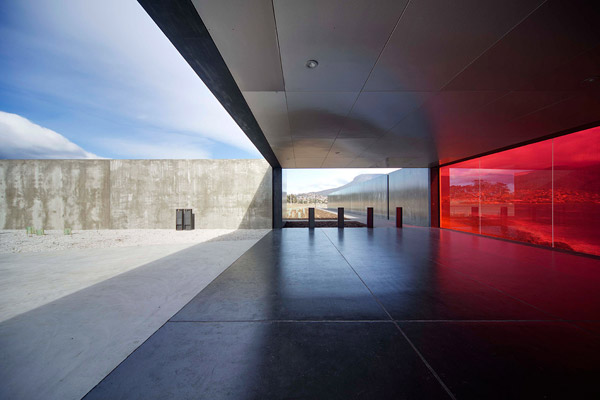 See more photos in the gallery: