I wrote this article a couple of years ago for Escapes magazine.  Back then I didn't imagine that this writing assignment will lead to a long lasting friendship, and I'm so glad it did.  The owners, David & Shelly, have become our friends, and we love hanging out with them and at their home.  I felt this hot summer season in Baja is a perfect time to share this article and some photos with you.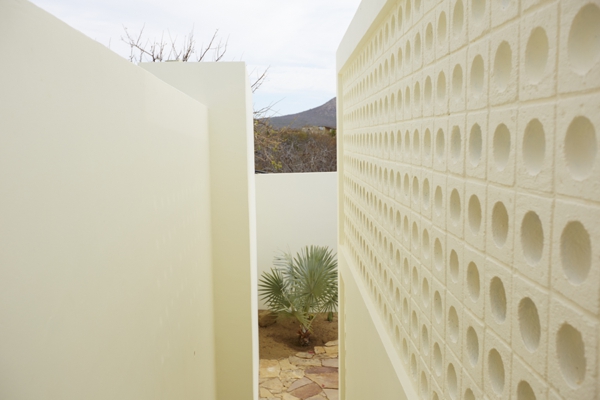 Casa Shelly stands proudly in the heart of the East Cape area of Baja California Sur, 15 minutes away from town but still far enough to enjoy the tranquility of the nature.  Its owners fell in love with the area because of the beautiful beaches and the desert, great surf and the close proximity to their home in San Francisco.  They love to see the stars at night and enjoy the silence, and their home is built in a way to enable them to fully enjoy indoor-outdoor living with low maintenance costs.  Besides the great appreciation for the nature, ecology and enjoyment to its owners, Casa Shelly received a silver medal at the 10th Biennale of Mexican Architecture.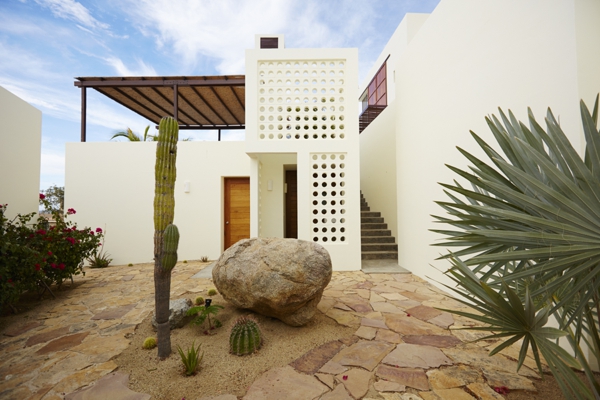 David, a professional photographer and surfer, lives with his family in San Francisco.  He came to Los Cabos first time back in 1989 for a photo shoot.  At the time his wife Shelly and him were not married yet but fell in love with the area.  His father was from Mexico so David has had a romance with Mexico for a long time.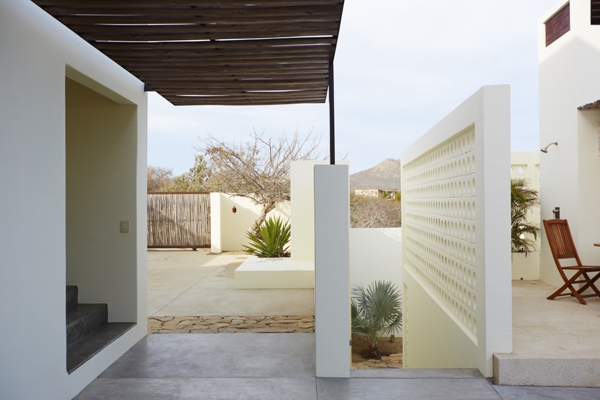 Both David and Shelly like to surf and enjoy the desert climate, the warm water and sea life they encounter while surfing.  »We like seeing turtles, whales and fish, but no sharks,«  David explains, and continues  »We mostly surf, but when friends come we like to visit uncrowded beaches up the East Cape.  We also enjoy exploring the mountain areas like Santiago, and the small towns on the way to La Paz.«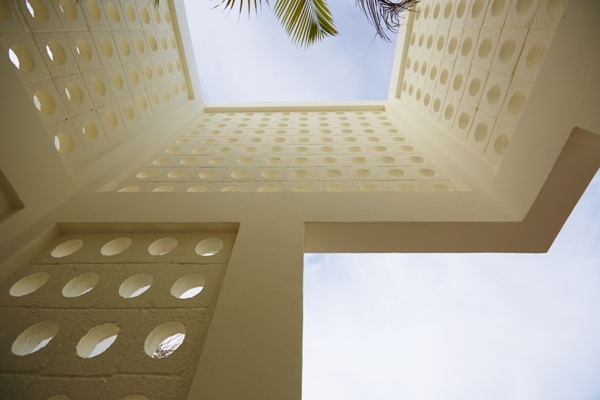 They chose San Jose del Cabo and East Cape area because it was close to town but also close to more rural areas.  Being from San Francisco, they wanted to be in the country but close to town.  They had their eye on the area for years, and after they sold a condo they owned in the corridor between Cabo and San Jose in 2005, they bought the land to build their ideal summer home.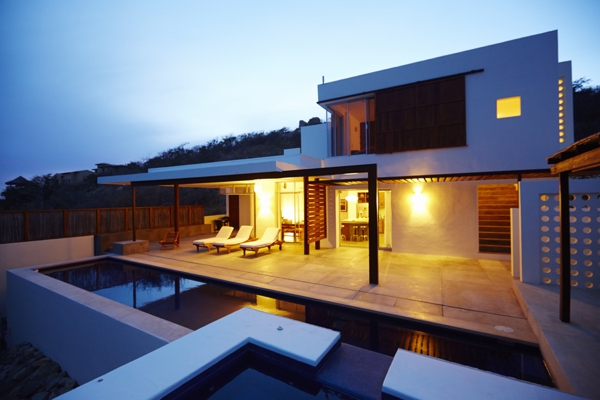 They trusted the design and construction of the home to a local architect Javier Gutiérrez Toscano from ColectivoMX.  They met him and after a visit they knew he was right for the project.  »He listened to what we wanted and what we hoped for.  We collaborated, we gave him an idea of how we were going to use the house and let
him show us his ideas.  We told him we liked indoor-outdoor living and wanted our home to be low maintenance.  We decided not to give him too many restrictions or directions.  His aesthetics are very similar to ours.  Our biggest challenge was working with a tight budget, however Javier always came up with great economical solutions,«  David talks about their cooperation with Javier.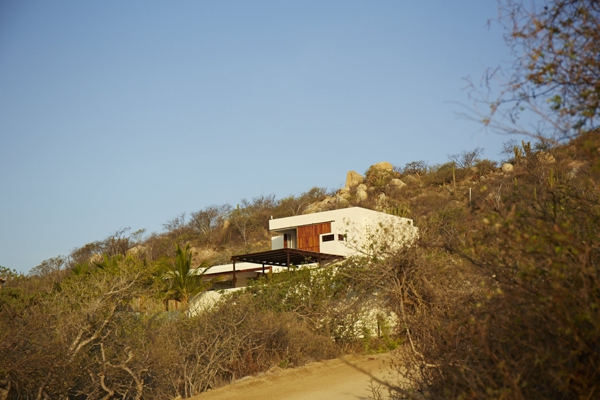 Javier Gutiérrez Toscano, an architect behind this eco-home which received a silver medal at the 10th Biennale of Mexican Architecture, explains the concept behind Casa Shelly:  »The initial needs of David fit the aesthetics and urban treatment we had always meant to capture in Baja.  He set some basic requirements: low consumption of energy and water, maintenance to a minimum and economic convenience.  These requirements, added to ours – preservation of unique vegetation, minimum pollution during the building process, use of local workforce and material, and natural ventilation – laid the grounds for a project which would only use five different materials produced in the zone – concrete, steel, wood, aluminum and glass – as well as sun-and-wind based design.«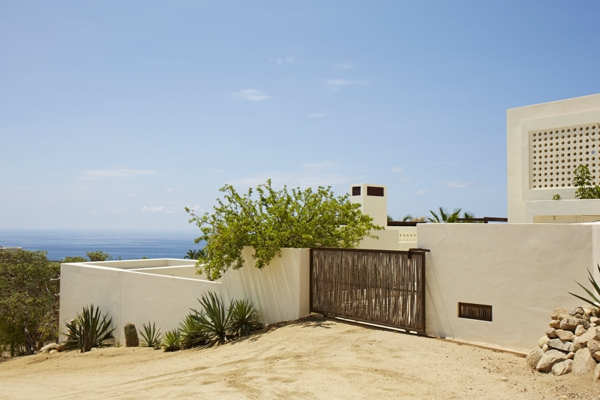 The friendly weather and lack of rain allow the outdoor area to become an integrated part of daily life, which gives independence to spaces and users.  Three independent volumes and two vertical connections, one covered with a roof and one uncovered, make up this architectural layout.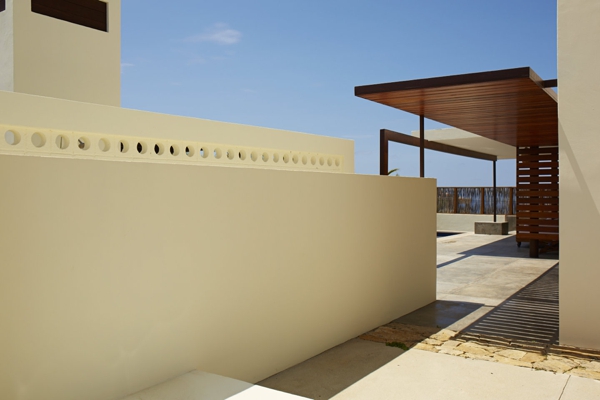 The two-story main volume comprises a living room, a dining room, a kitchen, a bathroom, a warehouse and a washing area on the first floor, and the master bedroom with a private bathroom on the top floor.  The living room, which opens to the pool area and patio, dining room and kitchen are all integrated in the same space for casual
use.  On the top floor a huge parasol enlarges the habitable space including an outdoor shower and a sunbathing area which gives a feel of floating over vegetation.  The family's favorite thing is spending most of their time outside, on the pool deck in the shade or in the living room with all the doors open.  They love being outside and inside at the same time.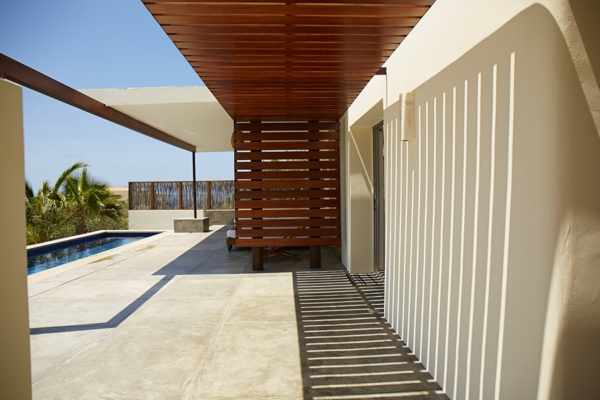 Two exterior guests bedrooms are joined by a courtyard.  One of the rooms is used to retain both the swimming pool and the top terrace, and its roof, in turn, is used as an outdoor lounge.  Cross drafts due to its location were solved with a wind chimney that
works with temperature changes.  This room only received the light filtered through the top of the trees, so they took advantage of the swimming pool to create a window, and thus allows light in causing a constant movement effect when it is sieved by water.  This
window has been a perfect means for David and the family to take memorable photographs under the water.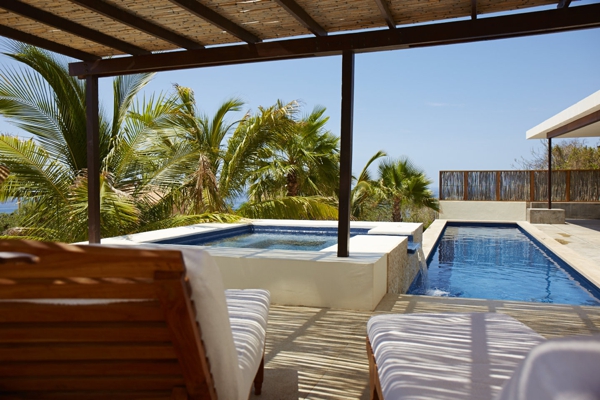 So that little maintenance would be required, the outside was finished in polished concrete with incorporated color, which wears out as the house in turn does and protects it from the water.  The inside consists of plaster painted in white, and the rest is wood, polished concrete, clear glass and natural aluminum.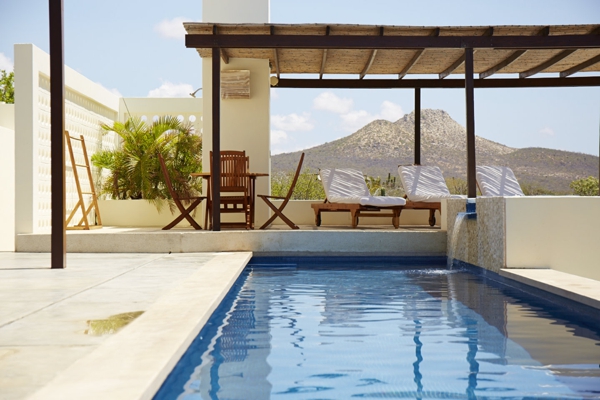 As part of the commitment to the ecology by the owners and architectural studio ColectivoMX, the house design includes a system to reuse grey water for watering, solar cells for electricity, ceiling fans instead of air conditioning, an emergency gas generator and a swimming pool with saltwater managed through solar panels.  "We are very proud of our house," says David, "and we really enjoyed the process of building it with Javier.  It seems that the longer we have it, the more we appreciate the design and livability of the architecture."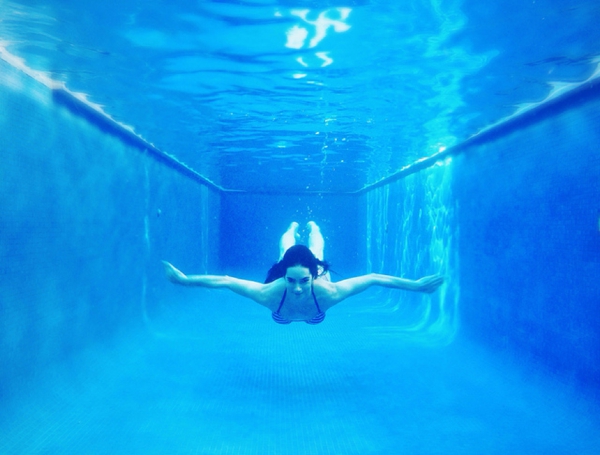 I enjoy swimming at the pool at Casa Shelly.
I wrote this article for Escapes magazine issue 5.  Photos in this blog post are by David Martinez, except the last, underwater photo, which was taken by Mariano.  When Shelly and David are not in Baja, they offer their house for rent – if interested, you can rent it here.