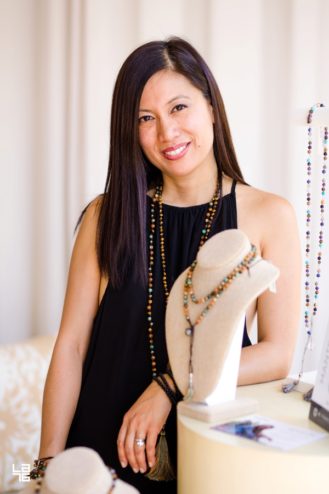 I first met Judith Compton in 2010 at an event at the beautiful cliff-side resort Capella Pedregal in Cabo San Lucas, Mexico, (now The Resort at Pedregal), and her sense of style, passion for beauty, and desire to create meaningful things, pulled me over to her every time she came to town. We soon became friends, and I love following her travels all over the world, and all the places she goes with her sustainable fashion brand Mala and Mantra. I feel very honored that Judy chose my husband and me to photograph Mala and Mantra's fashion collections for several years now. I love that each piece of jewelry, apparel, or home accessory Judy makes is created consciously and designed with intention. Her fair, sustainable fashion nurtures the soul and gives back to the community.
During her last visit to Los Cabos, I chatted with Judy about her travels and especially about her Cabo travel tips, things she cannot live without when traveling, and how she packs her suitcases when hopping planes and moving around the world. Photos accompanying the interview are from our recent photo shoot for Gemstone Goddess, a Couture Collection of Mala and Mantra.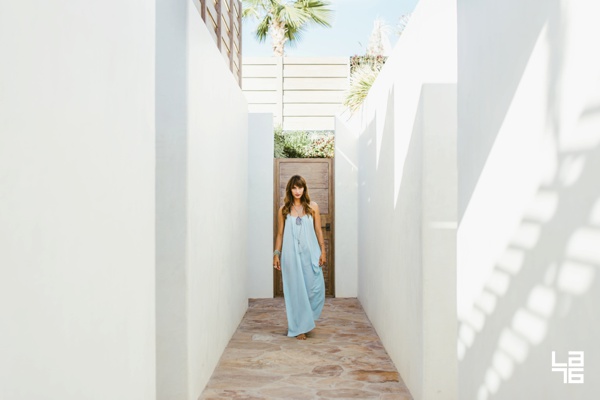 Judy, what is your travel style? Would you say you are a minimalist or a maximalist?
JC: My travel style is chic, comfortable, casual and functional. I always try to pack classic pieces from my capsule wardrobe that work together and can be repurposed throughout a trip, and that I know will look and feel good. A lot of times, that usually means plenty of black, white and grey, with a pop of color to brighten an outfit up.
What are your travel essentials?
JC: Black and white V-neck tees, distressed Free People jeans (the only brand that fits me well!), a pair of comfy lounge pants for downtime in the room, a lightweight sweatshirt (the rooms are always so cold!), a shawl (for the plane and in the evenings), a black knit dress, a pair of flip-flops that can be worn to the pool or as slippers, a steamer, a flat iron, sunscreen, my lavender and eucalyptus pillow mist spray that puts me right to sleep and an eye pillow.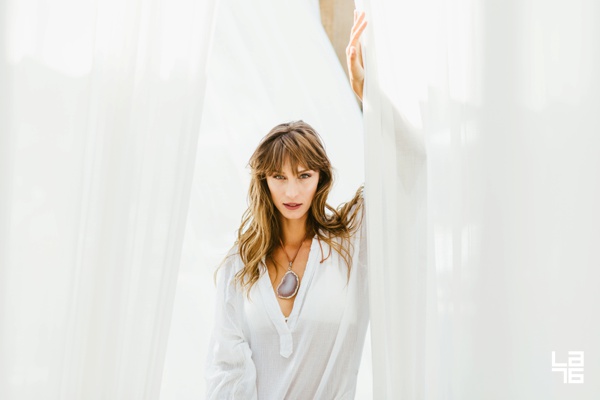 I love these! And since you travel so often, what are your frequent travel tips?
JC: Always pack essentials in your carry on (contacts, medications, etc.) in case anything happens to your luggage. And of course snacks like a pack of almonds or a protein bar, in case you don't get a chance to grab a meal. Oh, and always bring a shawl or sweater for the plane, because it never fails to be freezing!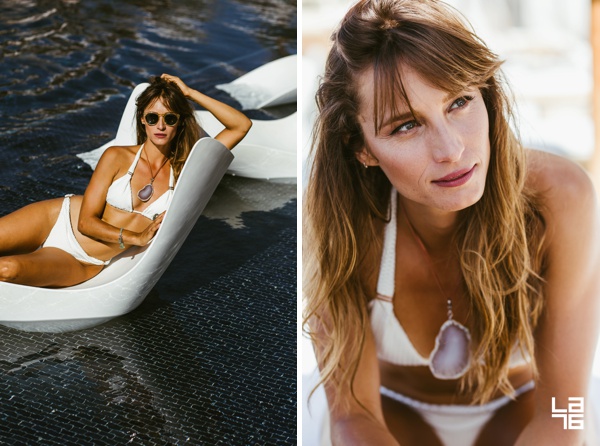 Do you have a travel ritual?
JC: I start packing my bag a few days before a trip. First I look up the weather for where I'm traveling to, then I start a checklist for each day based on the plan and weather. I always have my toiletries pre-packed in designated pouches (for face, hair, body, etc.) so all I have to do is move them into my suitcase when I'm ready to start packing.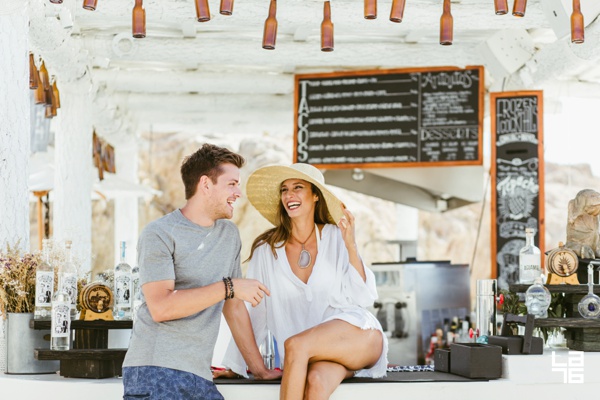 Talking about toiletries, how do you maintain your beauty & wellness rituals when traveling?
JC: My travel beauty ritual is to moisturize, hydrate, apply sunscreen, and then repeat. I'm really big into wellness, so I try to maintain my routine from home when traveling by waking up at the same time, practicing my morning meditation, squeezing in a workout if my schedule permits and eating healthy, whole, organic meals as often as possible and not indulging too much in foods I don't usually eat. My body will definitely let me know when it doesn't agree with my poor choices!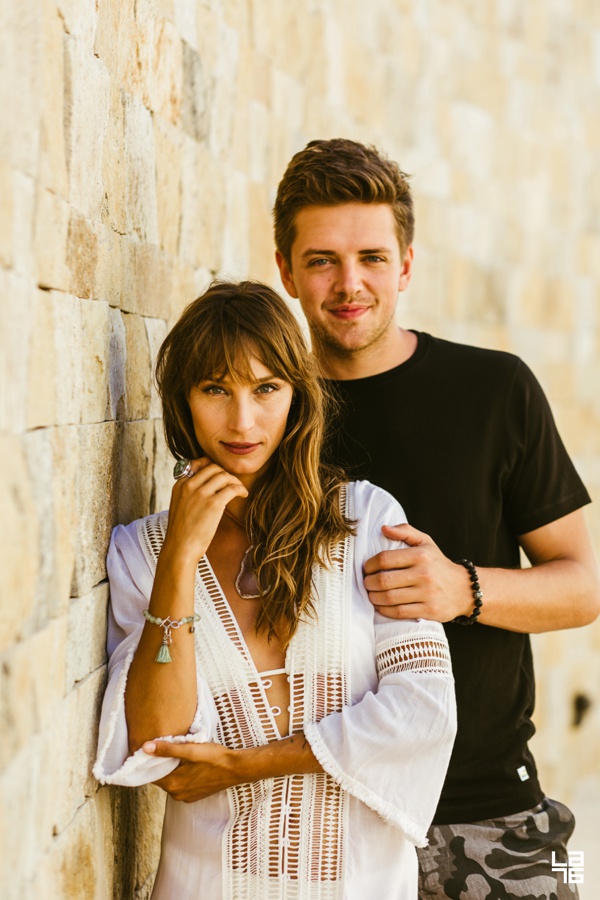 I love that you come often to Los Cabos, where we have 350 days of sunshine per year. Do you have any fashion tip for Cabo? What do you like to wear when you are here, and why?
JC: My fashion tip for traveling to Cabo is to pack lightweight clothes in fabrics that can easily be rolled and steamed and that don't require ironing. I always bring lightweight cover-ups (which can also be used as a top or dress), caftan, and dresses. Lightweight shawls come in handy for the evenings when the breeze from the sea is a little chillier than expected. I love to bring fun embellished accessories like sandals and bags to accent my outfits. And of course, I don't go anywhere without lots and lots of my Mala beads.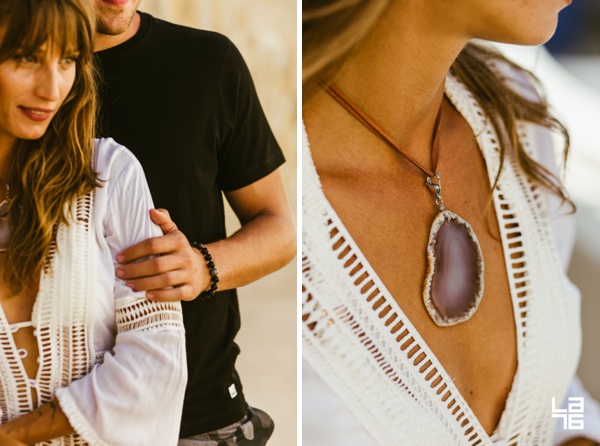 I know you love Cabo, so can you tell me what are your favorite things and places here:
JC: Honestly, I love everything about Cabo! First of all, I love the fact that Los Cabos is a desert on the sea. It really speaks to me, as I love the desert scenery and color palette and I love the smell and taste of the sea and ocean. (Sea urchin is my current obsession; it's the ultimate umami and taste of the sea.) Living in Southern California, I'm drawn to the Pacific. I happen to be a water sign, so both the Sea of Cortez and the Pacific Ocean that surround Los Cabos feel like home to me. I also love the charm of San Jose del Cabo. It reminds me of other colonial towns in Mexico that I've traveled to, like Guadalajara and San Miguel de Allende, with their cobblestone streets, color-washed buildings, and charming gardens. I've always been attracted to Spanish Colonial architecture.
But most importantly, I love the people of Los Cabos! I've been very fortunate to have worked in Los Cabos for the past ten years, and during this time I've made amazing friends and met incredible people. I love it so much that my husband and I plan to move here eventually.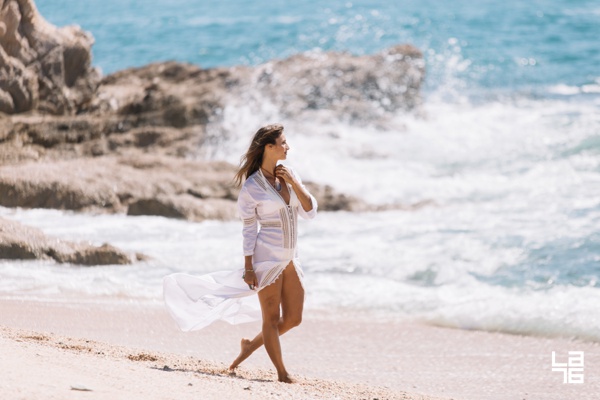 Do you have a favorite hotel, boutique hotel, or resort in Cabo?
JC: This is a tough question because I've been to so many and love them all, but I'll speak to the ones I've personally stayed in as a guest. This includes The Resort at Pedregal, Hacienda Beach Resort, Chileno Bay Resort & Residences, and One & Only Palmilla. My favorite hotel is The Cape, my favorite boutique hotel is Drift in San Jose del Cabo, and my favorite BNB is The Suites at Villa Valentina.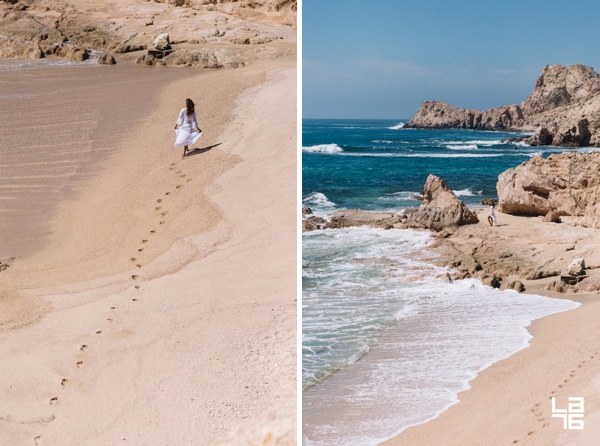 Which is your favorite restaurant, gallery, and boutique in Los Cabos?
JC: Another tricky question, as I have so many favorite restaurants I've eaten at! El Farrallon at Resort at Pedregal, Los Tres Gallos in San Lucas, Comal at Chileno Bay Resort, Toro, La Lupita in San Jose, Blue Fish in San Jose, Flora Farms in San Jose, El Lugareño in San Jose. All of them are delicious!
 My favorite gallery is in downtown San Jose and is owned by my incredibly talented amiga, Tanya Talamante, who is a mixed-media artist and painter. My favorite boutiques are AlmArte Boutique at Resort at Pedregal and Dalia Boutique at Chileno Bay Resort.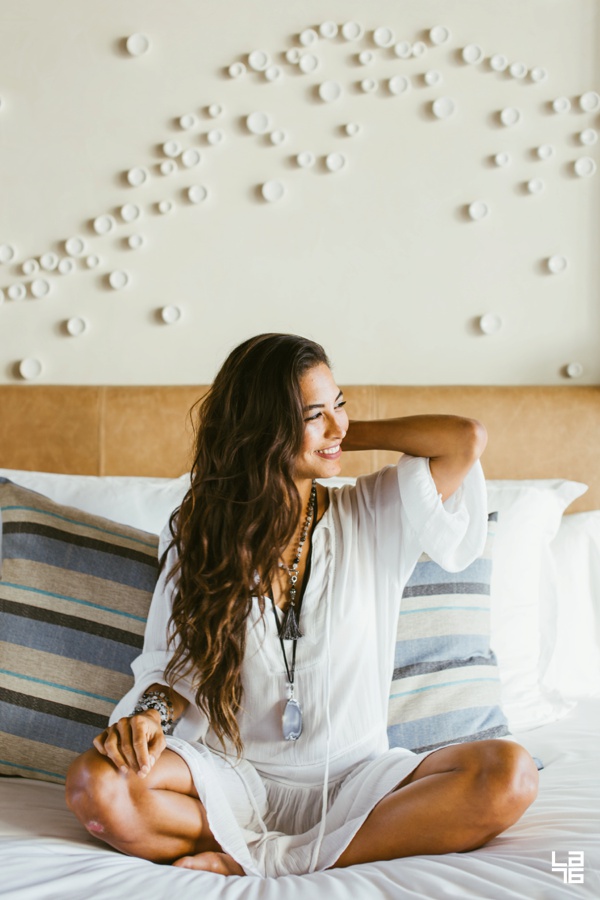 How would your perfect Cabo day look like?
JC: My perfect day in Cabo would be waking up to catch the sunrise by the sea, and then taking a dip in the pool before it gets too hot or too crowded. Then I'd love to work out and enjoy my favorite breakfast (Huevos Revueltos a la Mexicana) with fresh fruit (especially Mexican papaya) and a green juice. The afternoon would consist either of hanging out at a resort or driving to downtown San Jose and enjoying some delicious tacos for lunch—either from Rosy's, Asi y Asado or Blue Fish. I also love to explore new places in the afternoons, like the East Cape or Puerto Los Cabos. The evening always starts with a great skinny margarita or my new favorite mezcal margarita, then we're off to dinner at one of our favorite restaurants in town to meet up with friends for some delicious comida. After that, it's back to the resort or for an after-dinner añejo tequila for a night cap. If you couldn't tell, I love food and drink!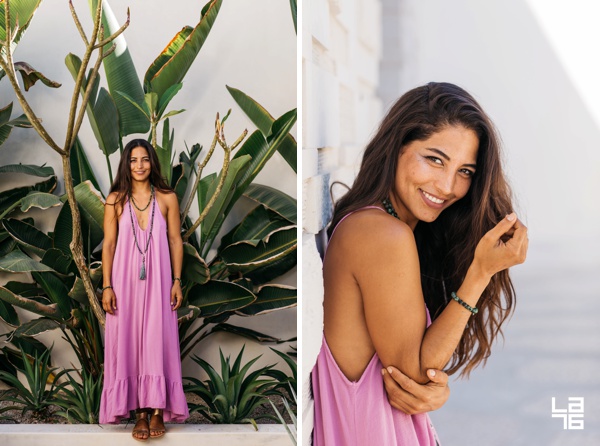 Los Cabos has so many beautiful beaches, do you have a one?
JC: Palmilla beach. I love that it's safe to swim in and the water is so calm.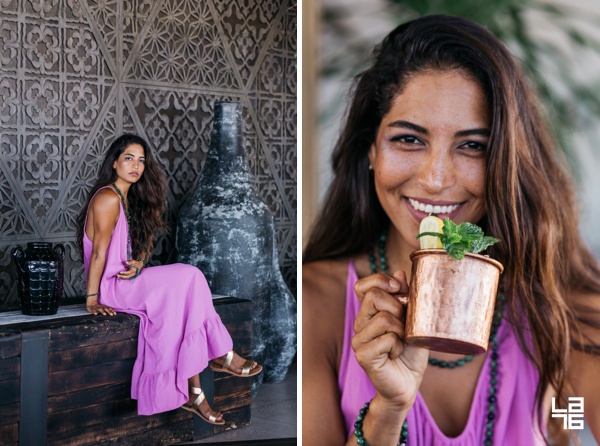 I know you love Mexico, so when you are not in Los Cabos, which other Mexico town do you love, and why?
JC: Valle de Guadalupe in Baja California Norte. I love the terrain of the valleys and vistas in this Mexican wine country, which is less than 2 hours from our home in San Diego. There are now more than 100 wineries in the region, as well as great restaurants owned by some of Mexico's top chefs, including Javier Plascencia's Finca Altozano (one of my favorites) and Jair Téllez's Laja. It's the ultimate food and wine destination in the Baja. We like to stay at Adobe Guadalupe, a beautiful BNB with only six rooms that sits on more than 100 acres. It has a winery, tasting room, horse stable, and incredible grounds with several Weimaraners and show-horses who call this lovely place their home.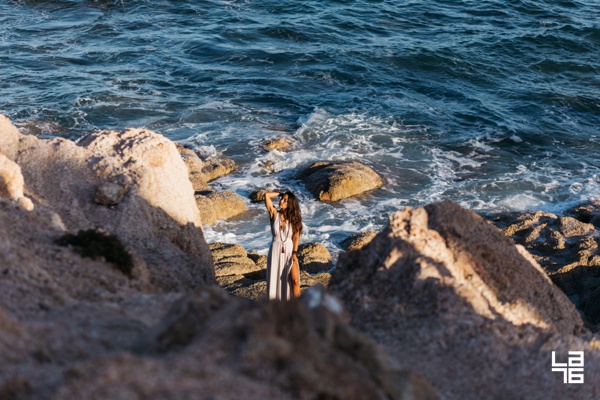 I love following your path with Mala and Mantra, and each collection that you launch. Can you please describe Mala & Mantra in your own words.
JC: Mala and Mantra is a mindful lifestyle brand I created in 2013 to help spread the meaning behind mala (meditation) beads and the messages of mindfulness, meditation and wellness to as many people as possible. Our goal is to empower the world through wellness, help people achieve their own personal enlightenment, and consciously create style while also sustaining women artisans around the world. Every piece in our collection is handcrafted by an amazing fair trade cooperative of women artisans in the Philippines, who we help provide fair wages, a safe work environment, and a sustainable way to support themselves and their families. It's really important to me that all of our mindful jewelry makes a positive impact on the world, whether by supporting these talented artisans or providing greater peace and wellness to the people who are wearing our jewelry.
Where do you get inspiration for your jewelry and apparel collections?
JC: I'm inspired by everything all of the time, from my travels and Instagram to my friends' wardrobes and personal style. I visually digest a lot and whatever speaks to me personally tends to drive my creative process. I'm always creating something—a design, a thought, a concept. It's actually something I can't turn off (which has proved challenging at times!).
What was the inspiration behind the latest Gemstone Goddess collection, and why you chose Los Cabos to photograph it here?
JC: For this collection, I wanted to use some really premium, faceted gemstones that we hadn't used before, such as aquamarine, garnet, prehnite, and tourmalated quartz. They're much more expensive and luxurious, as well as larger and heavier. I decided to refer to it as our 'Couture Collection,' as it's a pure luxury and the highest price points we've introduced so far. I envisioned a beautiful goddess dripping in gemstones, so I decided to name it Gemstone Goddess. Cabo is such a versatile destination—it can easily exude luxury, and at the same time, it feels like a casual resort lifestyle. To me, the scenery of Los Cabos—with all of its natural textures and the stunning azure sea—was the perfect choice to photograph this collection. Since the majority of our wholesale partners are also luxury resorts, I thought it was a very relatable type of scenery.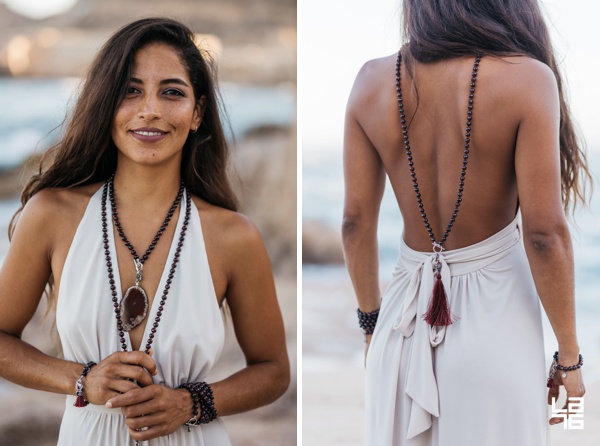 What inspires you the most currently? And what are the things you are planning for Mala & Mantra?
JC: The natural beauty of crystals, minerals and gemstones; my mindfulness and meditation practices; spiritual leaders such as The Dalai Lama; products that promote well-being, like essential oils; Eastern philosophy and practices; and of course Mexico always inspires me with its use of colors and textures, interior design and architecture, and the wonderful people. 
This fall, we launched two new collections. The first is our Lava Mala collection of aromatherapy intention jewelry. We teamed up with a brand called Body Bliss to pair thoughtfully chosen essential oil blends with a six different gemstone bracelets. Each bracelet features an all-natural, semi-precious gemstone, plus a Black Lava Stone bead—a porous, volcanic rock that easily diffuses aromatherapy. So you just dab a drop or two of the essential oil blend on the lava rock to enjoy its ayurvedic benefits throughout the day, as well as the holistic properties and healing energies of the bracelet's gemstones.
The second collection is our Live With Intention collection. It features bracelets, bracelet stacks, and mala necklaces in seven colorways, each of which is meant to help you bring certain intentions (love, inner strength, prosperity, etc.) to life. 
I'm also working on a new birthstones collection for 2019, so stay tuned for more info on that!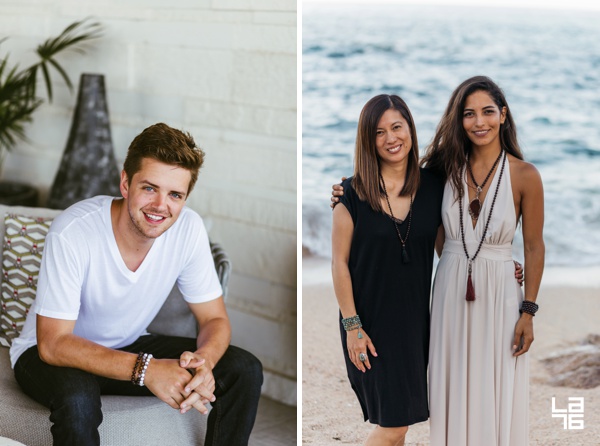 What has been your favorite book this year?
JC: Soul of Money by Lynne Twist
Where will your travels take you next?
JC: Toronto, Canada.
Travel destination still on your wish list?
JC: Too many to list but here are the highlights: Morocco, Machu Picchu, Portugal, Thailand, Myanmar, Bali, Australia, India, and Nepal.
Thank you so much Judy!
Jewelry: Mala and Mantra
Styling: Judith Compton, Mala & Mantra
Photography: LA76 Photography
Apparel & Location: Dalia Boutique & Chileno Bay Resort & Residences