Half a mile long, the first section of New York's latest park runs for nine blocks above the west side of Manhattan, along an old elevated railroad track.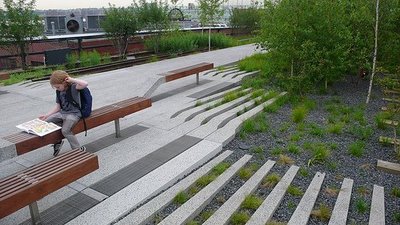 Ever since the first (exciting) winning renderings of James Corner Field Operations with Diller Scofidio & Renfro were unveiled in 2005, we've been waiting anxious for this project to be completed, finally the first phase of the HIGH LINE has been opened to the public this week.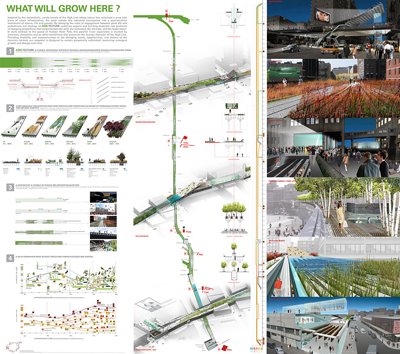 Since the beginning of its development, the design for this park, has been the favorite cause of New York's rich and powerful. Celebrities attended fund-raisers on its deck. City officials endorsed it. Developers salivated over it, knowing it would raise land values.
I was anxious to imagine it overrun with tourists and film crews. I imagined Carrie Bradshaw stumbling down its promenade with a broken heel, weeping over Mr. Big. But the actual big issue here was to really retain the tranquility of the abandoned railroad with wild nature, which had become a haunting experience just to stroll across it.
A series of low scruffy gardens, punctuated by a fountain and a few quiet lounge areas, that unfold in a lyrical narrative and seem to float above the noise and congestion below.
As Nicolai Ouroussoff (architectural critic of the NY Times) writes: "The High Line is one of the most thoughtful, sensitively designed public spaces built in New York in years."
An unexpected aspect of the project (a positive one) is the degree to which it alters your perspective on the city. Guiding you through a secret landscape of derelict buildings, narrow urban canyons and river views, it allows you to make entirely new visual connections between different parts of Manhattan while maintaining a remarkably intimate relationship with the surrounding streets.
We most remind the struggle of the architects to regulate access to the park and their proposal. Almost every developer working in the meatpacking district, at one point or another, was begging to have an apartment building or hotel connect directly to the gardens.Remarkably, the architects won this battle and maintained only four access points between Gansevoort and 20th Streets. This adds considerably to the park's low-key mood, and reinforces the notion that it is a place for a quiet stroll, an escape from the trendy neighborhoods below.
I keep picturing Carrie Bradshaw on the High Line, and it terrifies me!
for more images of the recent opened highline, check this galleries:
MINISONG gallery
JEBI.JEZA gallery
A NEW YORK TIMES: SLIDESHOW
AND ALSO NYT HAS A NICE VIDEO