We love to read. We do it on-line, but we also love to hold the printed book or a magazine in our hands and flip through pages, smell the ink… As internet and new media devices develop and offer more engaged reading experience – as for example now new iPad, reading on-line becomes more and more attractive. True, you can't smell the ink (yet), but there are some projects at work which are making on-line reading (or reading on a device) more and more appealing. We have been writing already about digital magazines as seen by Mag+, and we've got an exciting letter from them – their fist Mag+ digital magazine is live: Popular Science+.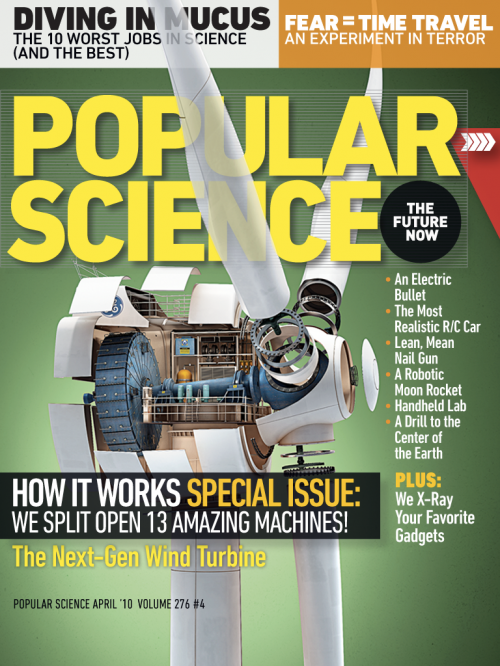 Mag+, Bonnier's digital magazine platform, is a project that began months ago in a collaboration between Bonnier's global R&D task force and BERG, a London-based design studio. It is now an ongoing project across all Bonnier titles in the U.S. and Europe to rethink the way magazines can be read on a new generation of full-color, touchscreen tablet devices. It's been a fascinating journey with only 60 days available since Apple announced the iPad in San Francisco. They've had 6 editorial teams in 3 countries working together to re-imagine the form of magazines. The feedback from the Mag+ video was encouraging and since then they have been deconstructing tons of magazines, used more whiteboard space than any project before and building many many prototypes. They can be really proud of what they've have achieved together with the PopularScience+. And – without a doubt – there is a lot more to come.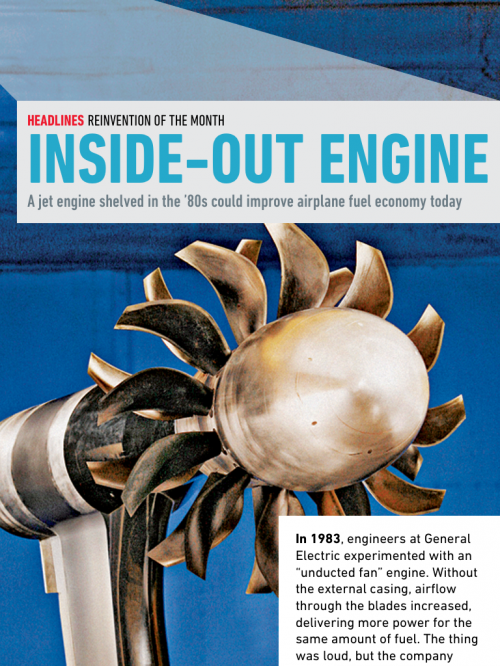 Their design vision was to create a digital magazine, which should feel like if you are touching the actual magazine, using your natural body language – not looking through the screen and layers of buttons.
Popular Science +, the first digital magazine to emerge from Bonnier's Mag+, is a new way of experiencing magazines on digital devices and a first step toward our vision of what digital magazine reading can be. The Popular Science+ digital magazine features simple, fluid swiping motions let readers move horizontally through stories, while vertical scrolling allows them to read an article without interruption or distraction. In the app's unique Look mode, users can tap the screen to make the words disappear, highlighting the magazine's big, bold photos and illustrations. Another tap returns to Read mode.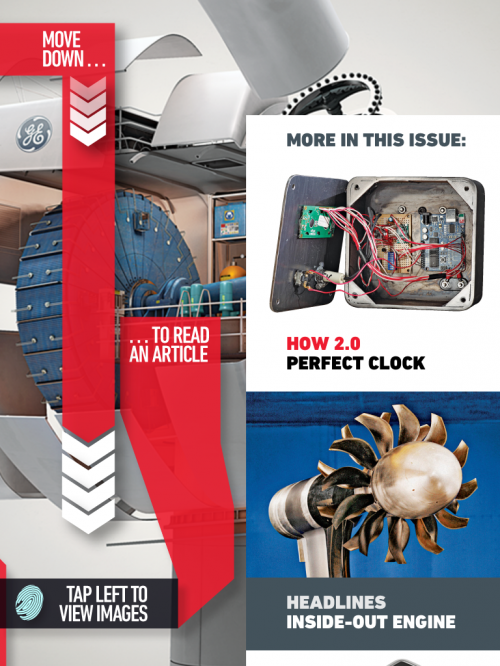 The Bonnier Mag+ platform and the Popular Science+ magazine are based on 6 design principles:
1.      Silent mode. Magazines are a luxury that readers can lose themselves in. Mag + has fewer distractions than the Web. It allows readers to lean back, away from the browser, and just focus on the bold images and rich storytelling. Reduced complexity increases a reader's immersion.
2.      Fluid motion. Magazines are easy to browse, and Mag+ replicates that with a story-to-story navigation that's more like a panning camera than a flipping page. As we say, "Flow is the new flip."
3.      Designed pages. Magazines are defined by their carefully conceived layouts that give readers an immediate understanding of the content and why it matters to them, a quality that got lost on magazine Web sites. Mag+ brings design back to digital publishing.
4.      Defined beginning and end. Unlike the Web, magazines have a defined storyline and flow from front to back. Mag + returns to the notion that something can be, and wants to be, completed. It's the end of endlessness.
5.      issue-based delivery. One of the great joys of magazines is that feeling of anticipation when a new one arrives. Mag+ maintains that by delivering full issues at once with all the same content as the print edition, and on the same schedule.
6.      Advertising as content. Relevant, attractive advertising is as much a part of the magazine experience as the editorial content, and Bonnier wants Mag+ advertising to include both pin-ups and applications readers can appreciate.
Mag+ live with Popular Science+ from Bonnier on Vimeo.
Follow Bonnier and Mag+ here:Â www.bonnier.com/betalab, and check out Popular Science+ digital magazine on iTunes.