At LA76 we love architecture, and are fascinated by church architecture and different takes and interpretations architects create in their works of inspiring spaces that respect people, faith, climate and environment. (see also Jørn Utzon's Bagsværd Church here)
In the Knarvik community church Oslo-based architects Reiulf Ramstad Arkitekter take a cutting-edge approach on a typical Norwegian stave church from the Middle Ages.  And very much like the traditional design, Knarvik church is built in layers and culminates at a tall spindly spire whilst the clean lines and lofty uplifting interiors evoke grandeur and a higher state of being.
Located in Hordaland close to Norway's western gateway to the dazzling fjords, the 2,250-square-meter angular timber structure sits in a tranquil hillside spot like a folded star cut into the stark grey sky backdrop.  However, although its angular shape juts out of the flat natural surrounding landscape, it surprisingly works in perfect harmony with its environment.  The church sits on a rock face surrounded by low-lying scrubland and trees in isolation, which reinforces the structure's otherworldly grandeur.
The folded timber chapel's pyramidal spire crowned by a dainty cross stretches upwards in one long clean sweep, driving the eye up to the big flat skies, and as the architects themselves say: "The church signals its function with a sacral dignity and recognisable form, where the church spire, sanctuary and chapel are emphasised by ascending roof planes." Split onto two floors, the building's main entrance is through the spacious foyer on the upper level, while office and meeting rooms take up the lower level. Both floors are actually joined by an atrium glass square emphasising the structure's lightness. The exterior pine walls have been pre-weathered so that the church blends in better with the surroundings whilst the tall vertical rectangles of glass windows reflect the wild landscape while letting plenty of light inside.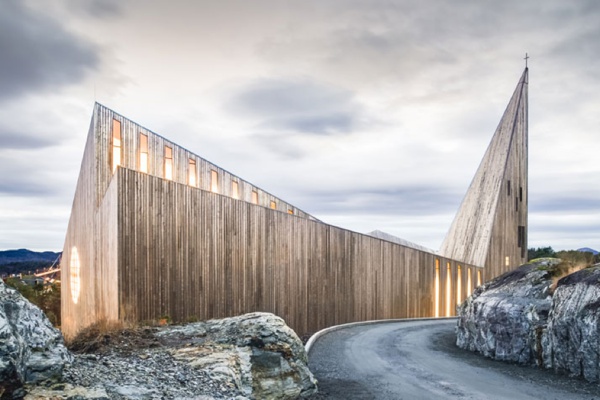 Through the foyer is the lofty main hall, which can accommodate up to 500 people. Here, the panes of timber fit together at different angles creating a slanted ceiling fitted with rectangles of white light that echo the shape of the slot windows and give the airy interiors a heavenly dimension. Although the white light combined with the pale coloring of the pine render the interiors a little cold if not clinical, the glimpses of the rural landscape and sky through the slatted windowpanes serve to lift the mood. While seated below the soaring roof in the hall, the eye is driven along each one of the pine ceiling's clean lines broken only by a colorful circular stained glass window behind the pulpit. The pulpit is also made from pine and stands on metal legs, which matches the pine chairs also on metal legs that are laid out in two rows on either side of the main aisle instead of traditional pews.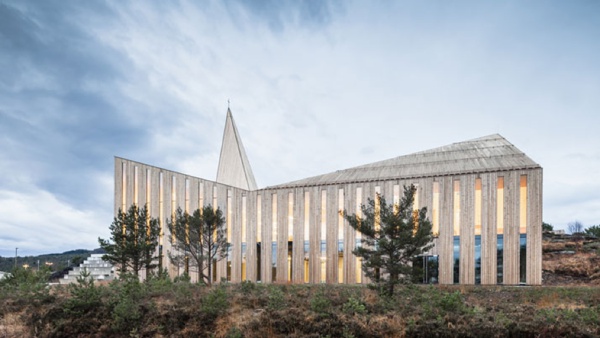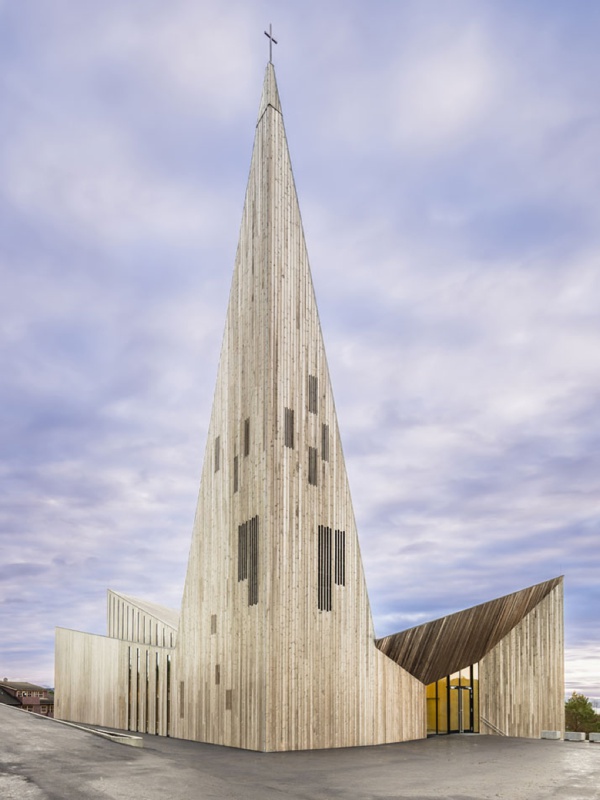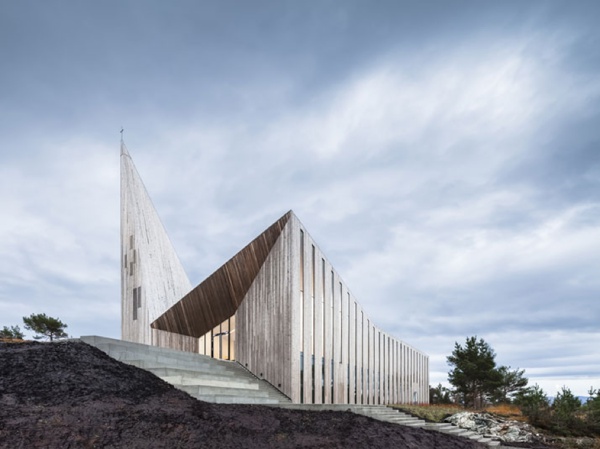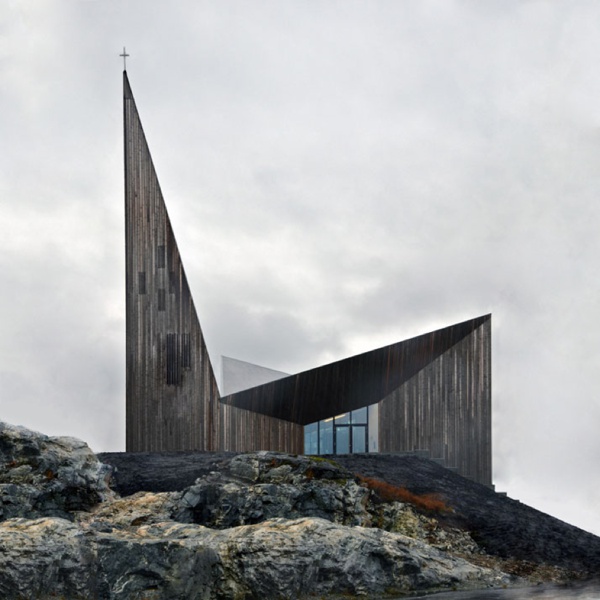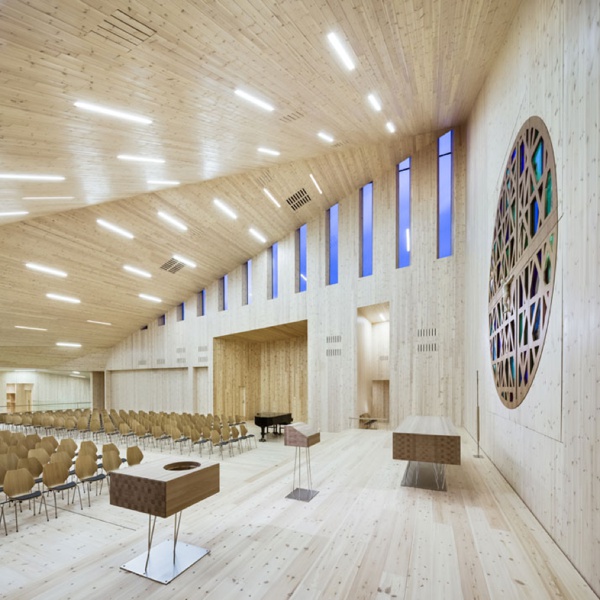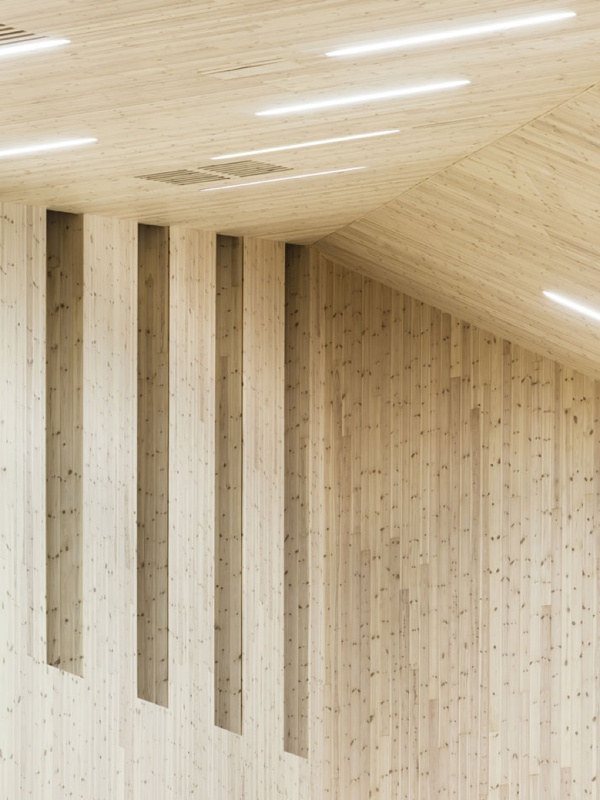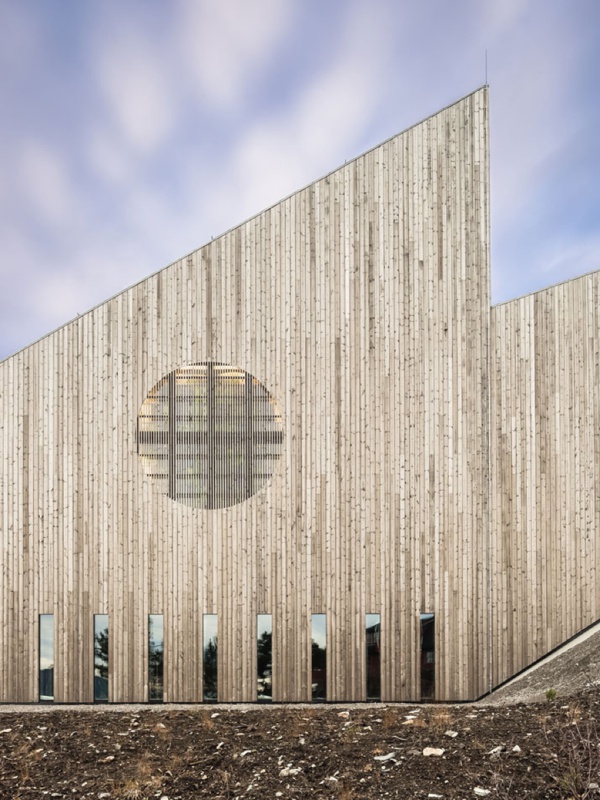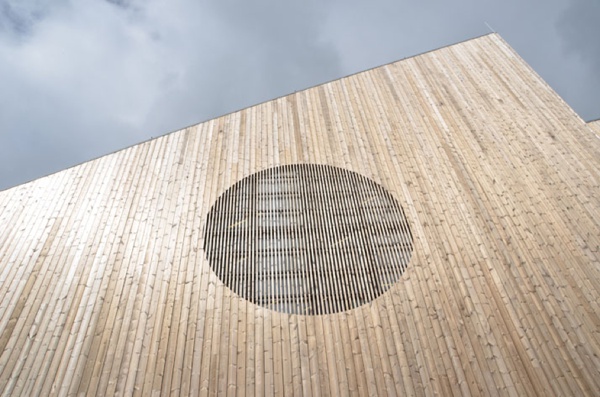 All photos by Hundven-Clements Photography © Reiulf Ramstad Arkitekter.