We absolutely love the UK Pavilion at the Shanghai Expo 2010. Mastermind behind it is Heatherwick Studios, run by acclaimed architect Thomas Heatherwick.
The Pavilion's design seeks to engage meaningfully with the Expo's theme, "Better City, Better Life". It veers from the expected trend of digitally-driven pavilions and explores the relationship between nature and cities. The Pavilion is made up of two interlinked elements, the Seed Cathedral and a multilayered landscape covering 6,000 square meters.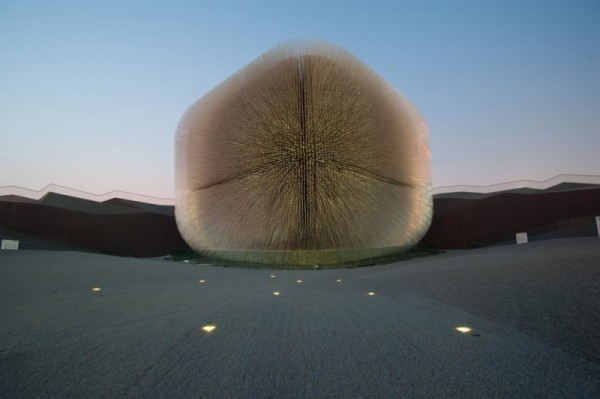 The cathedral itself is 20 meters high and is formed from 60,000 7.5 meter-long transparent fiber optic rods, which draw light into the interior by day and at night become illuminated via inside light sources. The rods, or "optic hairs," also sway in response to the wind to bring dynamism to the structure. The overall design riffs off the mission of London's Kew Garden Millennium Seedbank, which seeks to collect the seeds of 25% of the world's plant species by 2020. It sits on a multilayered landscape continues the cathedral's texture, covering 6,000 square meters. Made of a special artificial grass, it is intended to be a welcoming and restful space for Expo visitors.
Heatherwick Studios won the British Foreign & Commonwealth Office's commission to create the Pavilion, besting other top name competitors like Zaha Hadid Architects, John McAslan + Partners, Marks Barfield Architects, Avery Associates, and DRAW Architects with dcmstudios.
Shanghai Expo runs from May 1 to October 31, 2010. See also our article on EXPO 67.
See the video. It lasts 10 mins, but it's worth it!