I don't remember when was the first time I visited Trieste. I know I was still very little then, and it must have been a shopping trip with my parents. In the time when Slovenia was still part of Yugoslavia, going to Italy (or our neighbor Austria on the North), was a highly expected Saturday trip. We used to go to Trieste, because it was just 1 hour away from home, and some Slovenians went for these shopping sprees as far as to Milano. In those (communist) days, Slovenian stores held only a small selection of goods – be it grocery or clothing. It was in fact cheaper to go shopping to Trieste, so that's what we did at least once a month.
Now, a couple of decades later, our Saturday trips to Italy are still among my favorites.  Nowadays we don't go shopping for groceries, and not always these trips are even connected with shopping.  Mostly it's a fun trip with friends or girlfriends.  In summer Trieste is beautiful, with cafés having their tables set on the cobblestone streets and sidewalks, where you can sip a cappuccino – or even better, an Aperol spritz, have a gelato, or a pasta or pizza in one of the traditional osterias.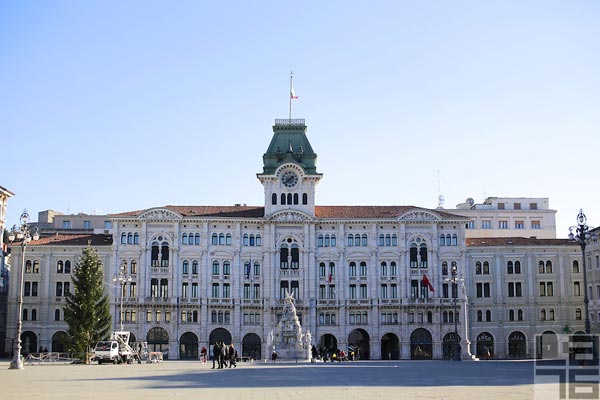 This December, when I was visiting Slovenia, we decided for an afternoon trip to Trieste, baby Dora's first trip outside Slovenia.  We went for a stroll through the centre, stopped at Buffet da Pepi for some home cured meat sandwiches, got warmed up at Circus Bar with caffe latte and tapas, and after a sunset stroll we wrapped up the trip with some gelato.
Telegraph describes this city:  "The great cliche about Trieste is that it has an air of melancholy.  This is true: all the usual leitmotifs of Italian cities – red-tiled roofs, narrow rambling streets and exuberant statuary – are pretty much absent.  Instead you have a town of sombre, grandly classical buildings laid out on a grid of broad streets.  On the seafront there is a gleaming limestone square, opalescent against the Adriatic, and the whole is overlooked by a sturdy castle set in a tree-filled park.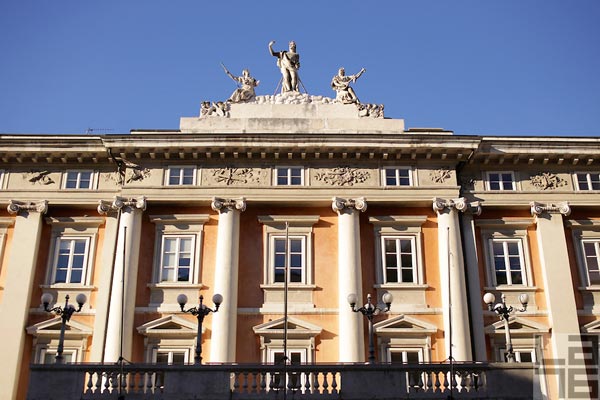 If this all sounds rather central European, it's because it is:  for most of its history Trieste was part of the Austro-Hungarian Empire.  The city owes its distinctive architecture to the Hapsburgs who, in the 18th century, decided that this sleepy Adriatic village was to become their major seaport.  Within a few years merchants were flocking to Trieste and, by the end of the 19th century, the city was home to 150,000 people."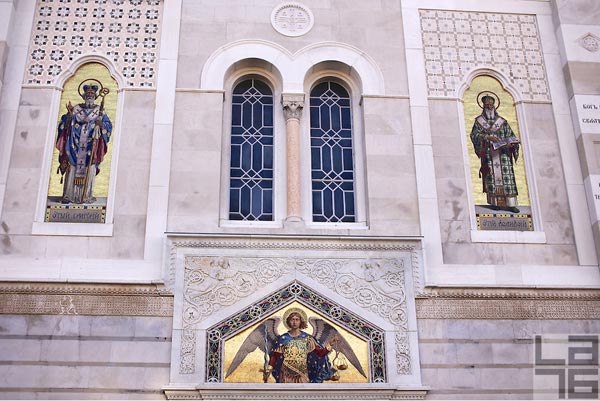 Today's Slovenia and Italy were both part of the Austro-Hungarian Empire.  It is interesting, that in the beginning of 20th century Trieste, which had 56,000 residents, became the biggest Slovenian town.  Ljubljana at that time had, including the German speaking minority, only 52,000 residents.  Trieste at that time was also an important center of social and cultural activity of Slovenia.  It didn't become part of Italy until 1918, that's why you have to forgive us if sometimes we Slovenians still consider Trieste as "ours", and it's just one of the reasons we'll always be going for our Saturday trips to Trieste.
You can see more photos from Trieste here.