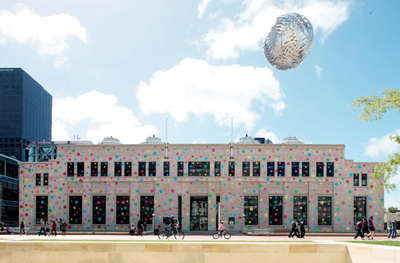 Polka dots are back in 'fashion'. Not that they were ever out. While polka dots are ancient, they first became common on clothing in the late nineteenth century in Britain. At the same time polka music was extremely popular and the name was also applied to the pattern, despite no real connection between them. The polka dot also appears in popular music. Remember "Itsy Bitsy Teenie Weenie Yellow Polka Dot Bikini" by Brian Hyland? Before that however, "Polka Dots and Moonbeams" was Frank Sinatra's first hit recorded with the Tommy Dorsey Orchestra, published in 1940.
Polka dots have been also the 'thing' that marked the life and work by Yayoi Kusama, japanese avantgarde artist that suffered since childhood from hallucinations and started to cover surfaces with the polka dots. There was a time when she was as well-known as Andy Warhol among admirers of Pop Art. Acknowledged as a progenitor of Minimalism, Kusama made headlines for street performances in which she painted polka dots on nude men and women. But Kusama was largely forgotten by the art world after she returned to Japan in 1973, suffering from obsessive-compulsive disorder. She was committed to a mental institution, where she remains to this day.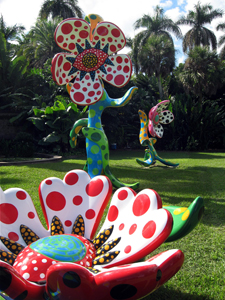 Kusama's neglect by art history has been redressed in a traveling retrospective of her seminal 1960s work. When the retrospective was on view in New York's Museum of Modern Art, shock waves of recognition went through the art world. Lately, her work has been traveling around the world and you can see her work here: Matsumoto City Museum of Art, Nagano, Japan; CITY GALLERY WELLINGTON, New Zealand; Padiglione d'Arte Contemporanea, Milan; Fairchild Tropical Botanic Garden, Miami; and The National Museum of Art, Osaka.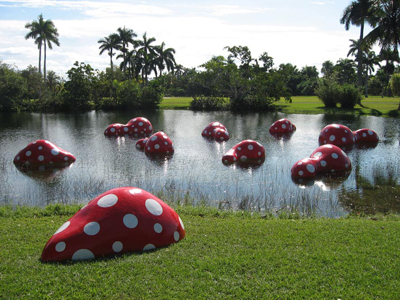 She also collaborated with Japanese mobile provider iida and created a limited art edition mobile phone.